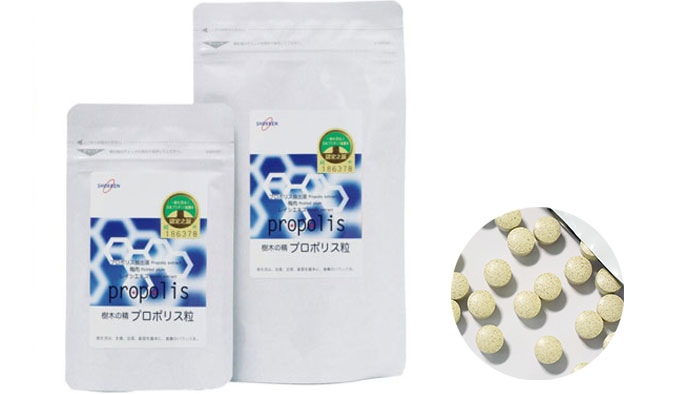 We have developed a supplement that can easily take in propolis with such wonderful ingredients.
Propolis is a negatively-charged substance that has a blood cleansing property. Therefore, dietary fiber, Japanese plum, Lingzhi mushroom, and Chlorella were added to adjust the energy to positive.

Because of that, this product is suitable to be consumed by anyone, including those with a weak immune system and children.
Since this product has antibacterial and anti-inflammatory activities, it can be consumed everyday to prevent viral diseases such as cold and others.
How to use
---
Please take 1~10 tablets daily with water or lukewarm water.
【Contents】
Small size 12.5g (250mg×50 tablets) / Large size 75g (250mg×300 tablets)
【Ingredients】
Starch, Dietary Fiber, Propolis Extract (from Brazil), Plum Meat, Chlorella, Reishi Extract, Sesame Powder
Want to try this popolis supplement?
If you need…
---
Samples and detailed information are available.
Please feel free to contact us!
We will be more than happy to assist!
We are looking forward to having your words!